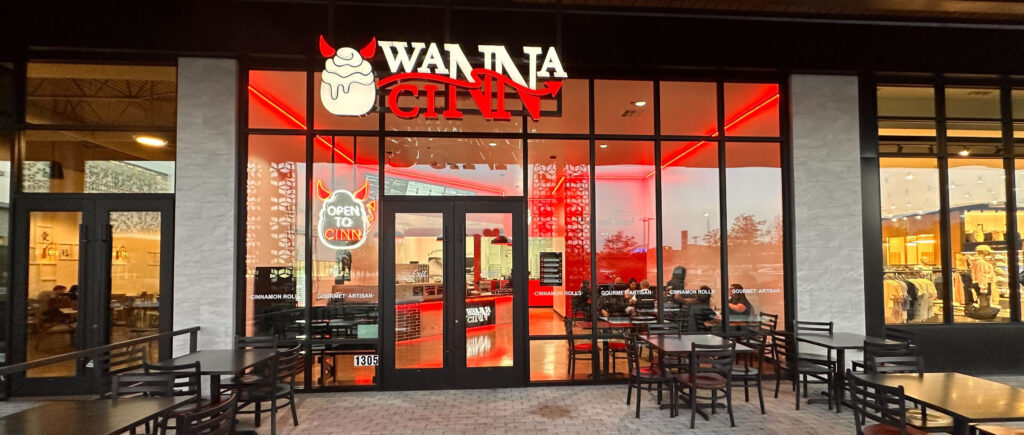 [
Welcoming St. George to the Cinn Family
We are thrilled to announce the opening of our third store in the heart of St. George at Red Cliffs Mall. This marks a significant milestone for us, as it's not just another store; it's our first sit-down location where you can savor our cinnamon rolls while enjoying a cozy ambiance.
A Cool Twist on a Classic Favorite
What's even more exciting about our Red Cliffs Mall store is that we're introducing a new dimension to our offerings – the delightful pairing of ice cream with our signature cinnamon rolls. We're calling it the "Cinnfully Cool" experience. Imagine sinking your teeth into the warm goodness of our cinnamon rolls while relishing the creamy allure of Farr's ice cream. It's a match made in dessert heaven!
Embracing the St. George Community
The warm reception we've received from the St. George community has been overwhelming. During our Cinn Fest – a week-long celebration leading up to our grand opening – we were delighted to offer daily discounts to our patrons as a token of our appreciation. The turnout exceeded our expectations, and we're grateful for the opportunity to share our passion for high-quality, mouthwatering treats with the wonderful people of St. George.
Insights from the Owners
Elisha Thomas, Owner: "This journey to our third store has been incredibly rewarding. Our vision was to create a space where customers could savor our delicious Cinns while enjoying a cozy environment. The St. George community has embraced us wholeheartedly, and we're grateful to be a part of this vibrant area."
Tamara Sickich, Owner: "Watching our dream of a sit-down location come to life is truly fulfilling. The Red Cliffs Mall store represents our hard work and commitment to delivering the best to our customers. Our fusion of heavenly cinnamon rolls and creamy Farr's ice cream is a treat that brings smiles to faces and warmth to hearts."
Navigating Toward the Future
Bryan Leeper, Chief Marketing Officer: "The unveiling of our Red Cliffs Mall store is just the prologue of an exciting story. Our dedication to innovation and offering remarkable experiences remains unshaken. With the unwavering support of the St. George community, we're enthusiastic about forging ahead, introducing new flavors, and transforming WannaCinn into an ultimate destination for dessert aficionados."
Thank you, St. George, for embracing us with open hearts and for allowing us to be a part of your cherished moments. Together, let's journey into a world where every bite is a celebration of sweetness and togetherness.